WELCOME TO LABORERS' LOCAL #435
Located in Rochester, NY, we are a labor union that represents close to 1,000 workers in all phases of construction. Founded back in 1918, our union has been involved in some of the biggest projects in the area, including the "Can of Worms", Van Lare Waste Water Treatment Plant, Mid-Town, and countless other projects, both large and small.
Our jurisdiction covers Genesee, Livingston, Monroe, Ontario, Orleans, Seneca, Wayne, Wyoming and Yates Counties. We are affiliated with the Upstate New York Laborers' District Council, a subsidiary of LiUNA (Laborers' International Union of North America). We're also affiliated with the local, state, and national Building Trades, as well as the local, state, and national AFL-CIO.
Follow us on Facebook and Twitter by clicking the icons on the left side of this page. Both pages are updated regulary with news, project updates and meeting reminders.
We encourage all Local 435 members to attend the regular monthly meetings every fourth Wednesday of each month at 8:00pm in Local 435's large conference room. The next regular monthly meeting is September 23rd at 8:00pm. The July and August meetings have been suspended.
Very sad to report Local 435's Bookkeeper Bonnie Petrotta passed away this weekend in a tragic motorcycle accident. Please keep her family and friends in your thoughts and prayers at this difficult time. Read below for her information.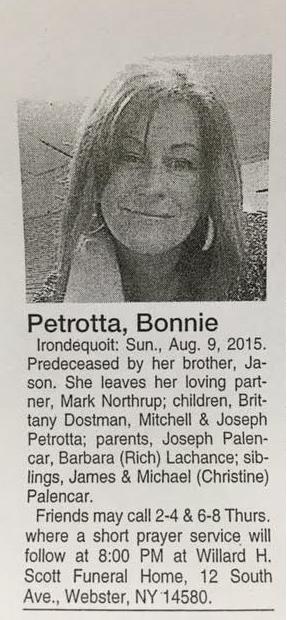 Rochester Labor Film Series

Come to the Union Hall and get your tickets for the Rochester Labor Film Series that will be showing movies starting Spetember 4th through November 20th. They are playing at the Dryden Theatre at the George Eastman House (900 East Avenue). Tickets are free to all members. Each movie will be shown at 8:00pm Except October 16th which will be shown at 6:00pm. Here's what's playing:

September 4 - The Hand that Feeds

- At a popular bakery cafe, residents of New York's Upper East Side get bagels and coffee served with a smile 24 hours a day. But behind the scenes, undocumented immigrant workers earn sub-legal wages, deal with dangerous machinery, and abusive managers. In 2012 a small group of them decided to fight back. Risking deportation and loss of their jobs, they teamed up with innovative young organizers and formed a union. In one roller-coaster year, they overcame a shocking betrayal, and a two-month lockout. Lawyers battled in back rooms, Occupency Wall Street protesters took over the cafe, and a picket lins divided the neighborhood. If they can win a contract, it will set a historic precedent for low-wage workers across the country.

September 11 - Eight Men Out

- A dramatization of the 1919 baseball scandal when several underpaid Chicago White Sox players accepted bribes to deliberately lose the World Series. A stellar cast (John Cusack, Charlie Sheen, Clifton James, Christopher Lloyd, David Strathairn, Micheal Rocker) transforms the story of a national scandal into a suspenseful examination of labor issues in baseball during a time before players had a union and when they were virtually the property of team owners. Sayles blames the whole affair on a miserable team owner Charles Comiskey (Clifton James)

September 18 - On The Art Of War

September 25 - The Wobblies

October 2 - The Trotsky

October 9 - Men Of The Cloth

October 16 - The Hour Of The Furnaces

October 23 - Tir

October 30 - Pride

October 20 - TBA

Check back here, or our Facebook page, a week before each showing to read a short bio of what each movie is about.
| | | |
| --- | --- | --- |
| | RG&E Rally | |
| | Thanks to all the members who attended the rally to make a difference Friday. We took over the corner of East Avenue and Chestnut Street downtown in front of Iberdrola (RG&E) and let them know we are NOT going to sit back while they give our jobs away to out of state workers. The Russell Station and Beebee Station projects combine to approximately 180 jobs. | |
| | | |
Organize Today

Learn more about organizing your workplace!

Click Here